Core team
Thomas Schillemans is associate professor of accountable governance and Principal Investigator of this project. He won a NWO-vidi grant in 2015. He has published widely on public accountability, public governance and the role of the media. Combining psychological and institutional methods and insights is one of his current main research interests.
Sjors Overman is assistant professor and postdoctoral researcher at the Utrecht School of Governance. Overman's expertise
lies in linking governance of autonomous agencies in the public sector to various effects, such as public sector performance, citizen satisfaction, and accountability. He published on a broad scope of effects of the creation of such autonomous agencies and he will defend his dissertation 'Great Expectations of Autonomous Agencies' in September 2016. He has a particular interest in the accountability and governance of cultural organizations.
Olga Verschuren is one of the two PhD researchers working on this project. Based at the Utrecht School of Governance, Olga explores what happens inside public organizations facing ambivalent claims for accountability. To open up this 'black-box', she adopts a qualitative-ethnographic approach, which is one of her fields of expertise, and will enable her to zoom in and move beyond what public actors merely write or say about accountability. Having a background in the organizational science and public administration, Olga's research interests are manifold. Next to accountability and (meta)governance, she has close affinity with change management, organizational culture, employer-employee interaction, group dynamics, identity work and sense making processes.
Marija is a PhD researcher at the Utrecht School of Governance. She is exploring the effects of accountability mechanisms on the work of public sector organizations, by using experimental methods.  Her background is in political science and public administration, while her focus has always been on issues related to the broader topic of good governance. She holds a particular interest in quantitative methods.
Maj Grove Jeppesen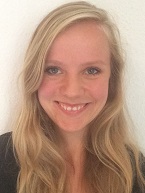 Maj Grove Jeppesen is research assistant and participating in the research master program Public Administration and Organisational Science at Utrecht University.
Advisors
Arno Visser, president Netherlands Court of Audit.
Kees van den Bos, professor of social psychology and empirical legal science.
Mark Bovens, professor of Public Administration and member of the Dutch Scientific Council for Government Policy (WRR).
Affiliated researchers