Marija Aleksovksa and Lauren Fahy win 'best paper giver awards' at ECPR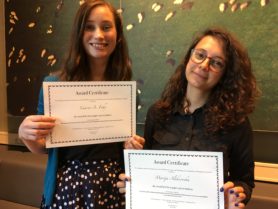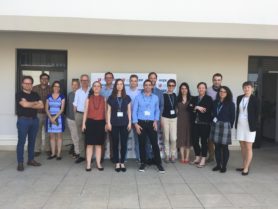 At the recent ECPR-Joint Sessions in Nicosia, Marija Aleksovska and Lauren Fahy won the 'best paper giver awards' in the workshop on 'Accountability and Reputation' for their two outstanding paper presentations. The four panel chairs and the panel-discussant thought these two participants made an exceptional contribution justifying this special honor. The two winners have received their award and an accompanying bottle of Cypriot wine.
A first look at Accountable Governance across 7 countries
The international CPA Team of researchers, lead by Thomas Schillemans, have brought together an initial report presenting preliminary findings of an international accountability survey, which has been carried out in public organisations across 7 countries. Click here for more details on the report and other publications, or click on the link below to go straight to the report.
2018 Survey report Governance Accountability Agencies
Call for papers: Accountability and Reputation
ECPR Joint Sessions 2018 Nicosia
https://ecpr.eu/Events/PanelDetails.aspx?PanelID=6820&EventID=112
This workshop will bring together an international group of scholars to discuss the relationship between accountability and reputation in the public sector. Accountability has gained a vast amount of scholarly, as well as public attention over the last years. The recent attention for behavioral aspects of accountability has furthered our understanding of the importance of accountability mechanisms: how can accountability instruments influence political and managerial behavior? At the same time, scholars have begun to theorise the importance of organizational reputation in accountability relations. In this workshop, we will discuss the relation between accountability and reputation, and accountability and performance, in further depth. An important contribution of the current workshop is the discussion of empirical evaluations of the relationships between accountability and performance and reputation.
Conference:                                     10-14 April 2018
Deadline paper proposals:            6 December 2017
Workshop Directors
Madalina Busuioc
Leiden University – Faculty Governance and Global Affairs
Sjors Overman
Utrecht University School of Governance
Thomas Schillemans 
Utrecht University School of Governance
Matthew Wood
University of Sheffield
What Good are psychological insights for public policy?
May 19th, 2017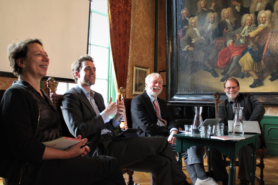 Launch of Utrecht University Institutions Stream Behaviour, Public Policy and Administration
With Roy Baumeister, Lars Tummers, Denise de Ridder & Joel Anderson
Friday the 19th of May 2017, marked the official launch of the new Center for Advanced Studies in Behavior, Public Policy & Administration at Utrecht University, closely linked to the strategic theme Institutions for Open Societies. Key speaker was no less than the acclaimed professor Roy Baumeister, one of the world's most prolific and influential psychologists.
Topic of discussion: "What Good are psychological insights for public policy and administration?".
Along dr. Lars Tummers, dr. Joel Anderson, and professor Denise de Ridder in the invaluable role of discussant, participating representatives ranged from the The Netherlands Scientific Council for Government Policy (with a recent report on psychology and public policy), policy advisors from the municipality of Utrecht and Rotterdam, and Utrecht University academics from the faculties Humanities, Social and Behavioural Sciences, and Law, Economics and Governance.
Chairing the meeting, dr. Thomas Schillemans (Utrecht School of Governance) sketched the envisioned contours of a network consisting of scholars, practitioners and other societal stakeholders.
Ambitions are grand as the centre will work to develop sound policy advice, develop educational opportunities and strengthen research around societal issues by combining insights from psychology, public administration, and other related field.
Finally, the day marks the start of a tradition to invite tantalising honorary guests with whom to exchange insights and views, an ambition which will bring academia and practise a considerable step closer together.
Click here to find more information about the newly launched center.
Workshop Professional Judgment:
Understanding how auditors process information
21 March 2017
By Raphael Debets, attaché in the private office of Alex Brenninkmeijer, ECA Member
A unique situation: More than 30 ECA colleagues carried out a case and real-time survey in the ECA's premises. All were unprepared, as part of the research, trying to get to grips with the relation between accountability and judgement; what is professional judgement?
Professional judgment is important in the public sector, where a variety of 'assessors' – such as auditors, evaluators, inspectorates and many others – operate and pass judgment on public organizations. Important yet difficult. Research has shown many biases and risks in professional judgement. During a two-hour workshop, ECA Member Alex Brenninkmeijer introduced Dr Thomas Schillemans (Utrecht University School of Governance1). Dr Schillemans tested a special case of professional judgment with more than 30 auditors from the European Court of Auditors. The same test will also be done in other organizations.
This research aims to further understand how professional judgment works for performance auditors and public sector evaluators and what factors contribute to its success, drawing on insights from auditing, psychology and public administration.
This should lead to new insights in how professional assessors process information and come to their judgment. It will shed light on pertinent questions such as: when do assessors process more or less information? When are they more likely to make errors and, also, do auditors from the same organization weigh the same evidence in similar ways?
Some possible answers were discussed in an informal gathering during the lunch offered to the hard working and enthusiastic participants.
The real answers to these questions will follow in autumn this year when Dr Schillemans will present his findings to all interested staff, here in Luxembourg.
Masterclass Professional Judgment Stichting Visitatie Woningcorporaties Nederland
Tweemaal per jaar organiseert de Stichting Visitatie Woningcorporaties Nederland een Masterclass voor visatoren. De Masterclass in november zal gaan over een kernkwaliteit van visitatoren: professional judgment.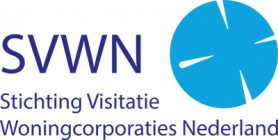 Professional judgment is het vermogen om tot een afgewogen oordeel te komen, rekening houdend met de specifieke, lokale situatie. Daarbij is 'goed oordelen' nog iets anders dan 'effectief oordelen': komt de boodschap ook áán, kúnnen betrokkenen (corporatie, huurders, gemeente) er echt iets mee, zet het hen in beweging?
Dr. Thomas Schillemans (Universiteit Utrecht), gepromoveerd op (o.a.) visitaties, reikt inzichten en ervaringen aan. Uit literatuur, van elders, maar deels ook gebaseerd op nieuw onderzoek naar visitaties van woningcorporaties.
Klik hier voor meer informatie over de Masterclasses voor visatoren.
---
Stimulating Launching Event Calibrating Public Accountability Project
February 11th, 2016
On Thursday February 11th the opening event for the research project Calibrating Public Accountability from Dr. Thomas Schillemans took place. Arno Visser, President of the Dutch National Audit Office, highlighted the societal relevance of accountability research during his keynote speech.
Visser stated that a cloud has been cast on the relationship between tax expenses and accountability. Our tax money is collected on the national level and subsequently distributed to other actors. 'Accountability' is often forgotten in this distribution process. Central government for instance allocates tasks and budgets to municipalities, who use these resources according to their own insights and needs. This may result in differences between municipalities. Who, then, is accountable for these differences: national government or local governments? The National Audit Office wants to be able to explain transparently which policies are financed by tax money and whether those policies have been carried out satisfactorily. This is impossible without appropriate accountability mechanisms.
Accountability is a key concept in democratic governance. Prior research is often descriptive and normative. The Calibrating Public Accountability Research project aims to innovate both public accountability research as well as practices of public accountability. In order to do this, the project is anchored in networks of international scholars and (primarily) Dutch public sector organizations. It ultimately aims to make accountability more effective in improving decision-making in various public sector agencies.
CPA-model published in Public Management Review
Out now: Public Management Review has now published the paper Calibrating public sector accountability. The paper develops a theoretical model, based on psychological insights, that can be used to analyze and devise accountability mechanisms for the public sector. The CPA-model is a crucial cog in our quest for calibration: it promises to help policy makers to optimize and improve accountability and governance systems. Click here